Welcome to the Xola Beta Mobile App. With the new app, you can take your workflow with you just about anywhere! Create bookings, take payments, switch events, assign guides, and more with just a few clicks.
---
What's covered in this article:
---
How to download the Mobile App
iPhone
For iPhone, start by navigating to the App Store and searching "Xola"
Once located, select the "Get" button to begin download.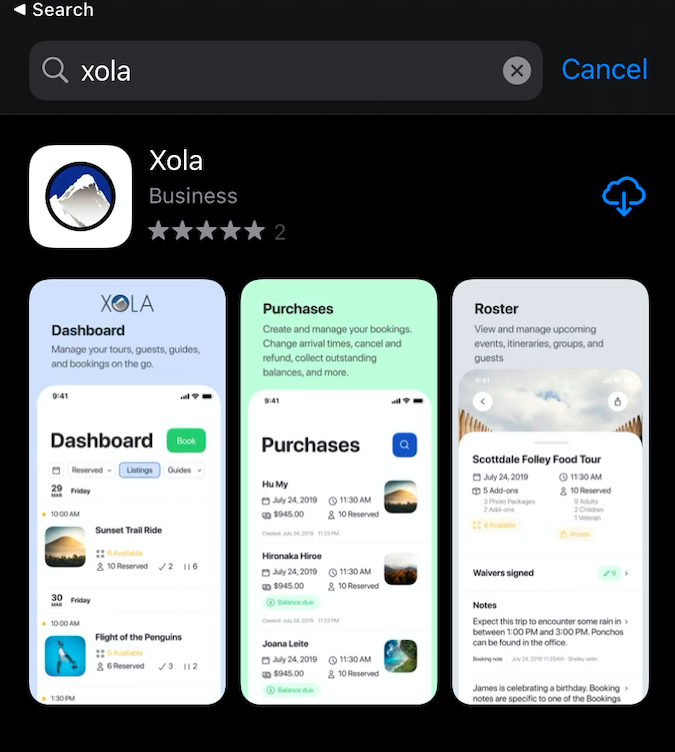 Once downloaded and installed, open the app and log in with your normal username and password. You're all set!

Android
For Android, start by navigating to the Google Play store and search "Xola"
Once located (it should be the second app that is listed), select the "Install" button to begin the download.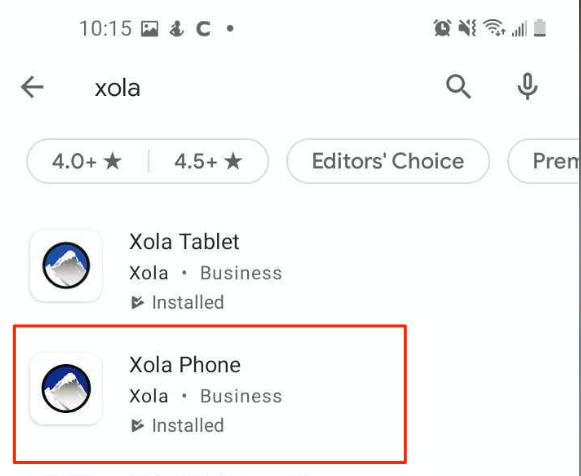 Once downloaded and installed, open the App and log in with your normal username and password. You're all set!
Overview of Tabs
Dashboard



From the Dashboard tab, you are able to view and filter your bookings and listings.
Using the Green "Book" button on the top right-hand corner will allow you to create a booking or sell a gift card to your guest.

Using the filters across the top of the screen you can sort by date, listing, guides, and availability type (Reserved, Available, or All)

Additionally, you can select any reserved booking from Dashboard, and using the "..." button - make edits such as changing arrival, adding a charge or coupon, collecting payment, etc
Purchases
With the Purchases tab, you are able to view all purchases made on the account.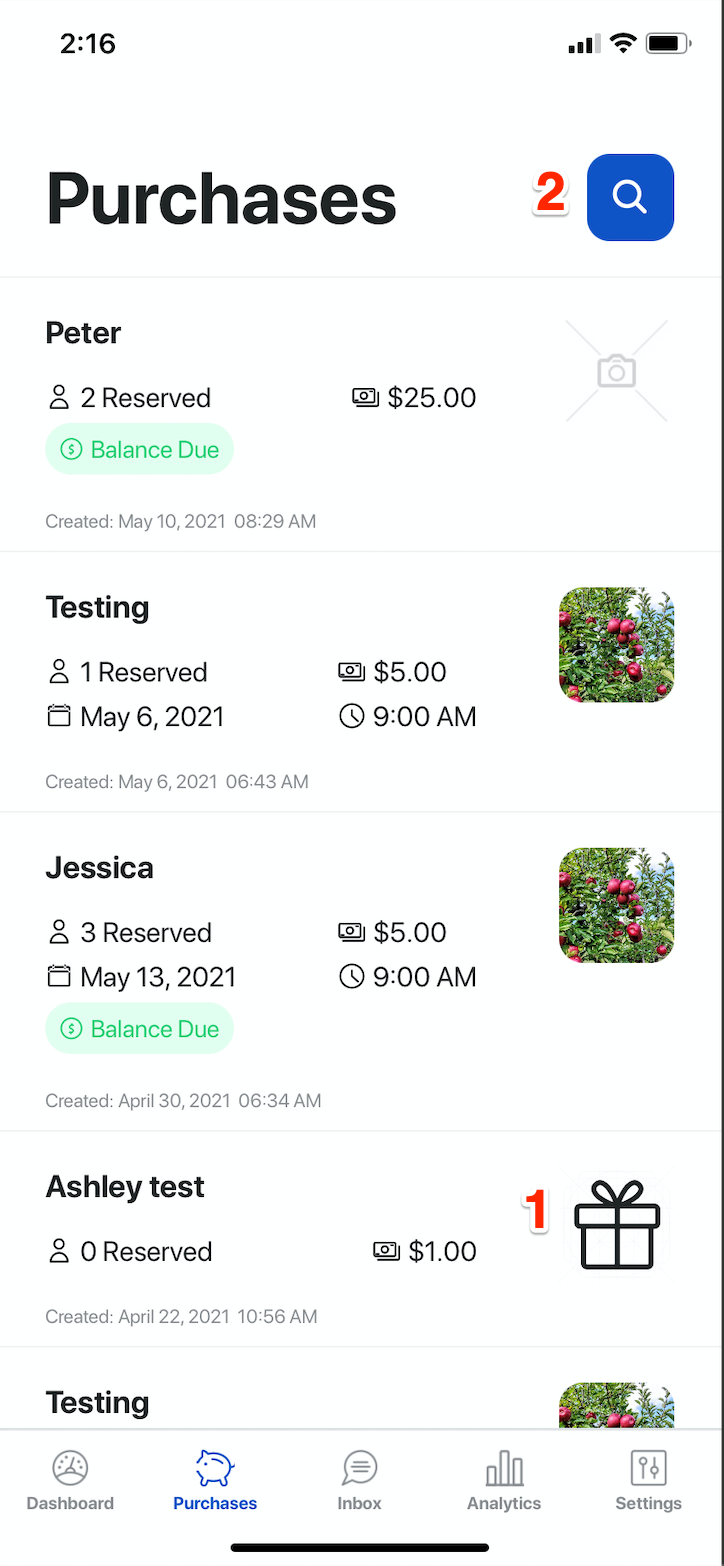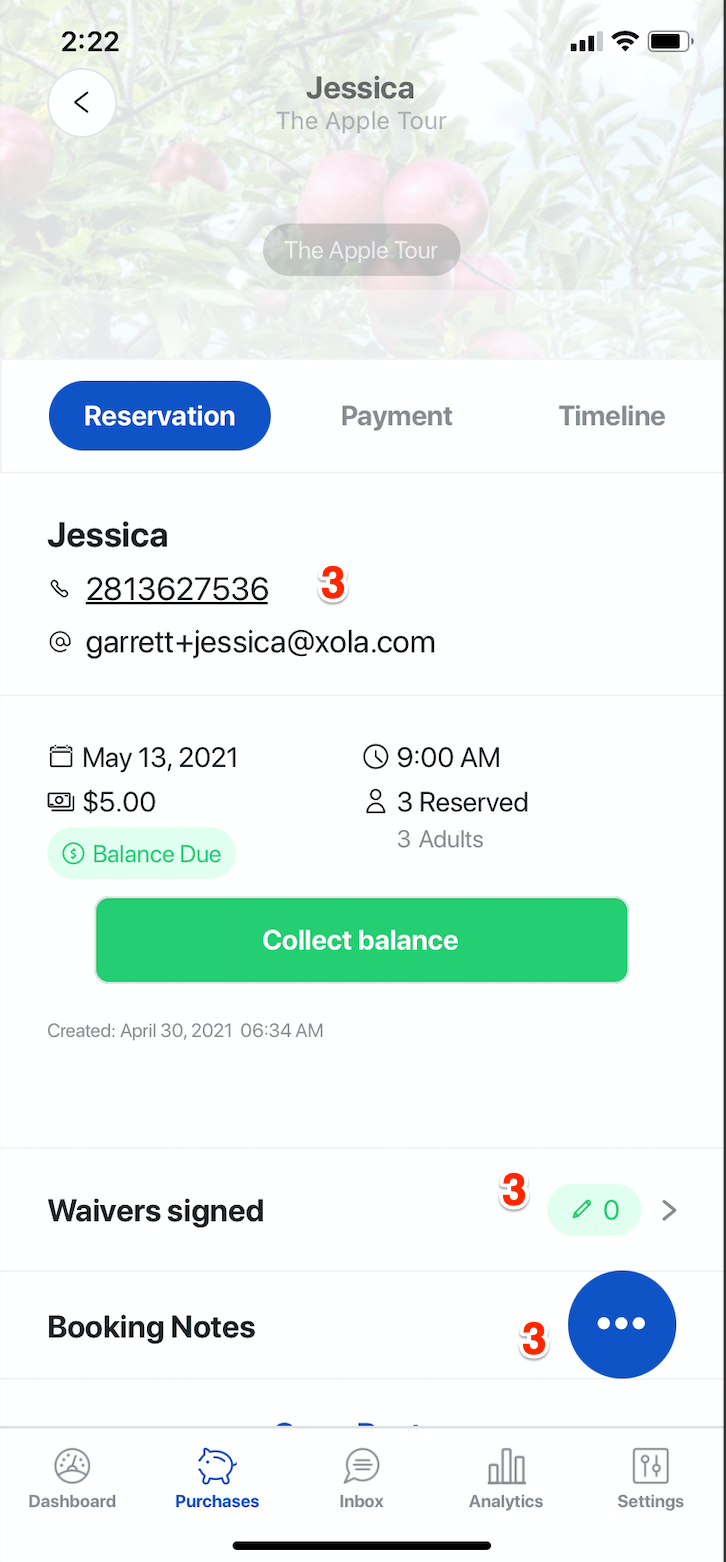 This includes the successful purchase of gifts and bookings.


This is also where you can search for customers using their name, email, phone, tag, or booking ID.

When locating your customer, you can select their booking to open the Roster view. This view allows you to see customer info, booking details, waivers signed, and more. You are also able to edit the booking from this view.
Inbox



The Inbox tab allows you to view and accept/decline any bookings that may be pending within your account (Manual Accept or override the per booking/outing minimum)

It is also from here that you can view messages sent you by your guest and reply back to them.


You can also view Xola's notifications and banners to get the latest scoop on what is new.
Analytics



The Analytics tab allows you to see data and reports including Cashflow and Recognized Earnings.

You can filter by listing and date range within the Analytics tab to view a graphical breakdown of your reporting. This is the best place for an "on the go" encapsulation of your transactions

View customers/demographic breakdown.
Settings
The Settings tab allows you to make configuration changes to your account or user.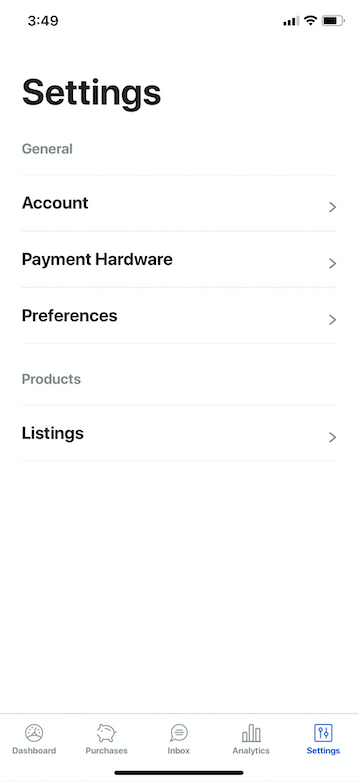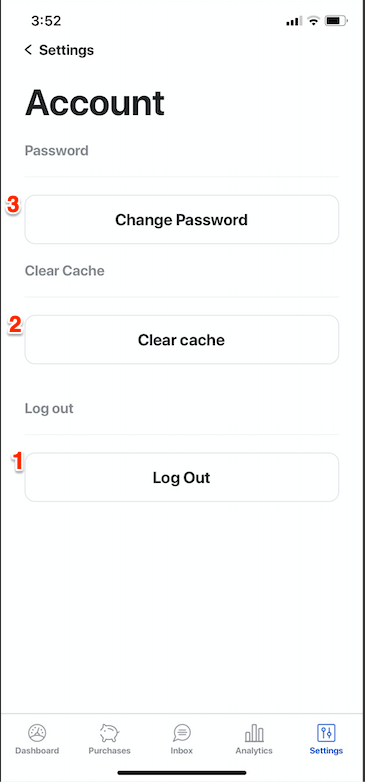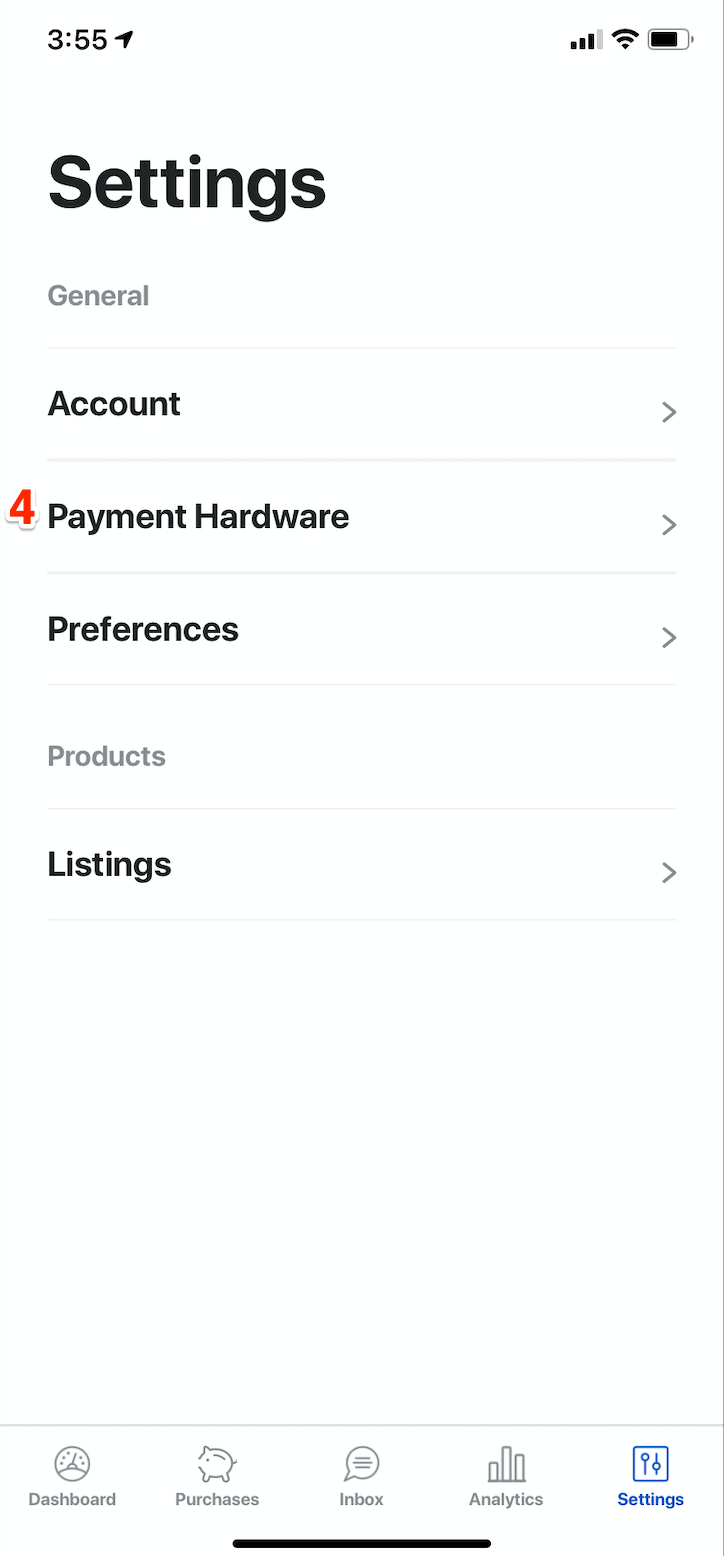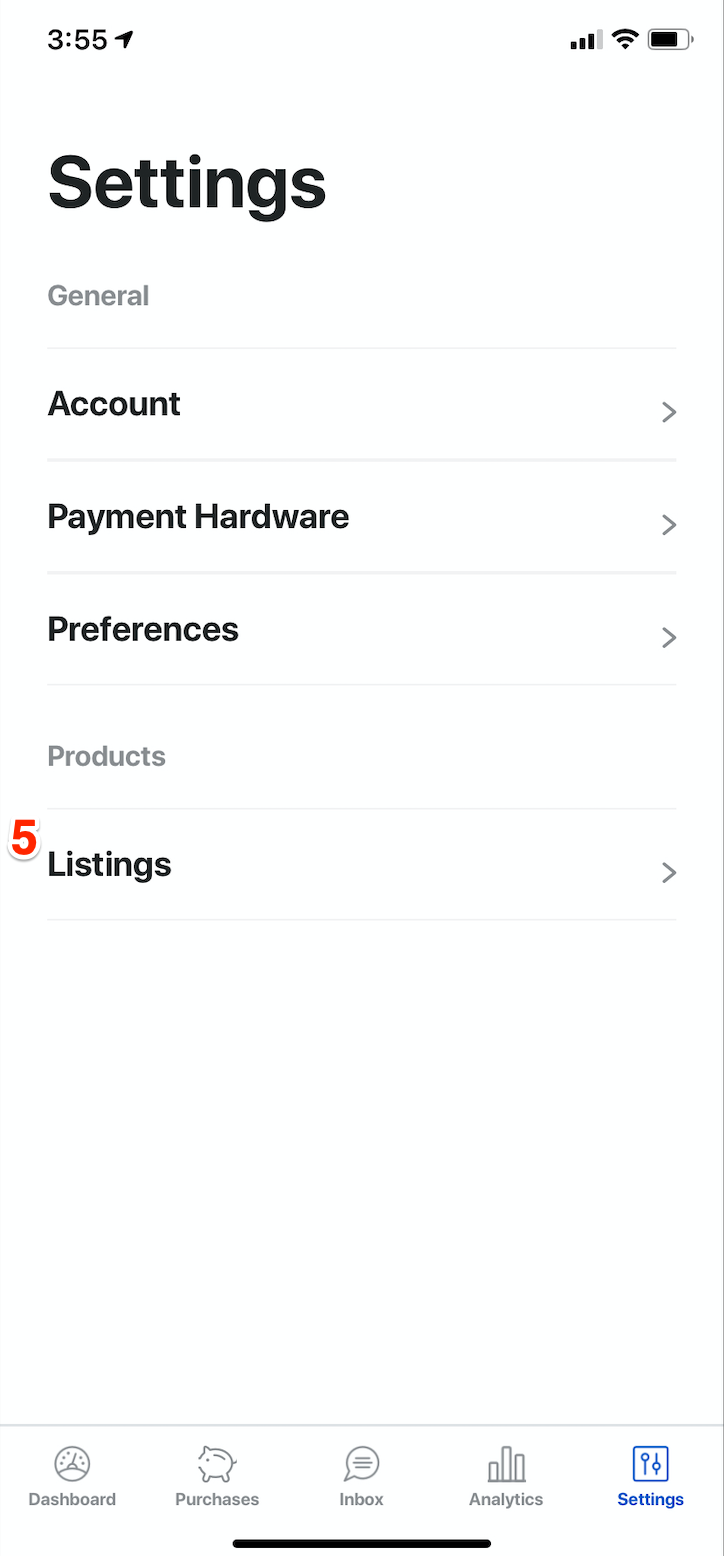 It is from the Settings tab > Account that you can log out

Clear your cache

Reset your password

Connect the BBPOS Chipper card reader via Payment Hardware (Currently only available on iPhone)

Edit schedules on a Listing or Global level via Listings


Beta FAQs

Who can sign in and use the App?
Currently, the only Permission levels (Grant Access User) who would not have access to the App are:
- Marketer
- Curator
- Accountant
- Affiliate Service Partner

NOTE: If your users have mixed permission that includes one of these Grant Access types with one that is accepted, they should still be able to log in to the App.

Can I print/export my reports from the Analytics Tab?

- No. Currently, you can only view Analytical data. If you wished to export the reports you will need to do so from the Desktop version

What listings are viable and bookable from the Mobile App?

- All listings should show that have a designated schedule attached to them. The only listings that would not show on Dashboard or under the listing options when selecting the "Book" button would be listings that DO NOT require a schedule





Can I collect a payment within the App?

- Yes you can! If using iPhone, you have the option to pair the BBPOS Chipper to the app to take CC payments (more on that here)
Otherwise, you can manually enter CC details and process a payment for any unpaid balances.


Is this all of the functionality?

- No. As we move forward with Beta participants and gather feedback, more features will be added to the App and updates will be available through the App/Google Play Store.

Can I use this App on my tablet?

- No. This App is currently reserved for mobile devices (phones)
We are working on building a Tablet-specific version of the App that will be released in the future.