The Xola Ticket Redemption app enables ticket redemption across multiple locations and operating partners. Our dedicated app ensures all customized ticket expiration and validation rules are easily enforced at check-in time, ensuring a seamless guest experience and protecting against ticket fraud and human error.
The Ticket Redemption app will streamline guest check-in with Xola's QR Code Scanning functionality. Easily add a QR code to your automated booking confirmation emails, then check-in guests by simply scanning the code, with the Ticket Redemption App. Xola's QR codes can be scanned from a mobile device or the printed booking confirmation email. This is an iPhone app that will support the check-in process and ensure that the tickets are used only once.
---
What's covered in this article:
---
How to Enable Ticket Redemption on Xola
Navigate to the Xola App Store by clicking the App Store tab in the upper right-hand corner.
Locate "Ticket Redemption" and select the App Store tile.
Click the green "Install" button
Locate "QR Code Scanning" and select the App Store tile.
Click the green "Install" button
Note: you must have both the Ticket Redemption and QR Scanning App installed in your Xola account to use the feature.
How to Set up Redemption App on Xola
Set up Listings:
Once both apps are installed from the App Store you can set up your listings to accommodate the QR scanning.
Go to Products> Listings> Choose the listing you want and hover over and hit Edit.
On the left-hand side go to Tickets.
Choose how you want the QR code to appear to the guest:

One ticket per group/party: This will give one QR code per group. IE if you have a group of 5, they will only have to present the 1 QR code and the whole group of 5 will be cracked in at once.
One ticket per guest: This will give one QR code per guest. IE if you have a group of 5, they will have to present 5 QR codes and 1 QR code will check in 1 guest.

You can also set up a booking validation rule for the tickets. Each listing can be set up to only accept check-in for that listing for a specified amount of time. To learn more on how to set up booking validation, click here.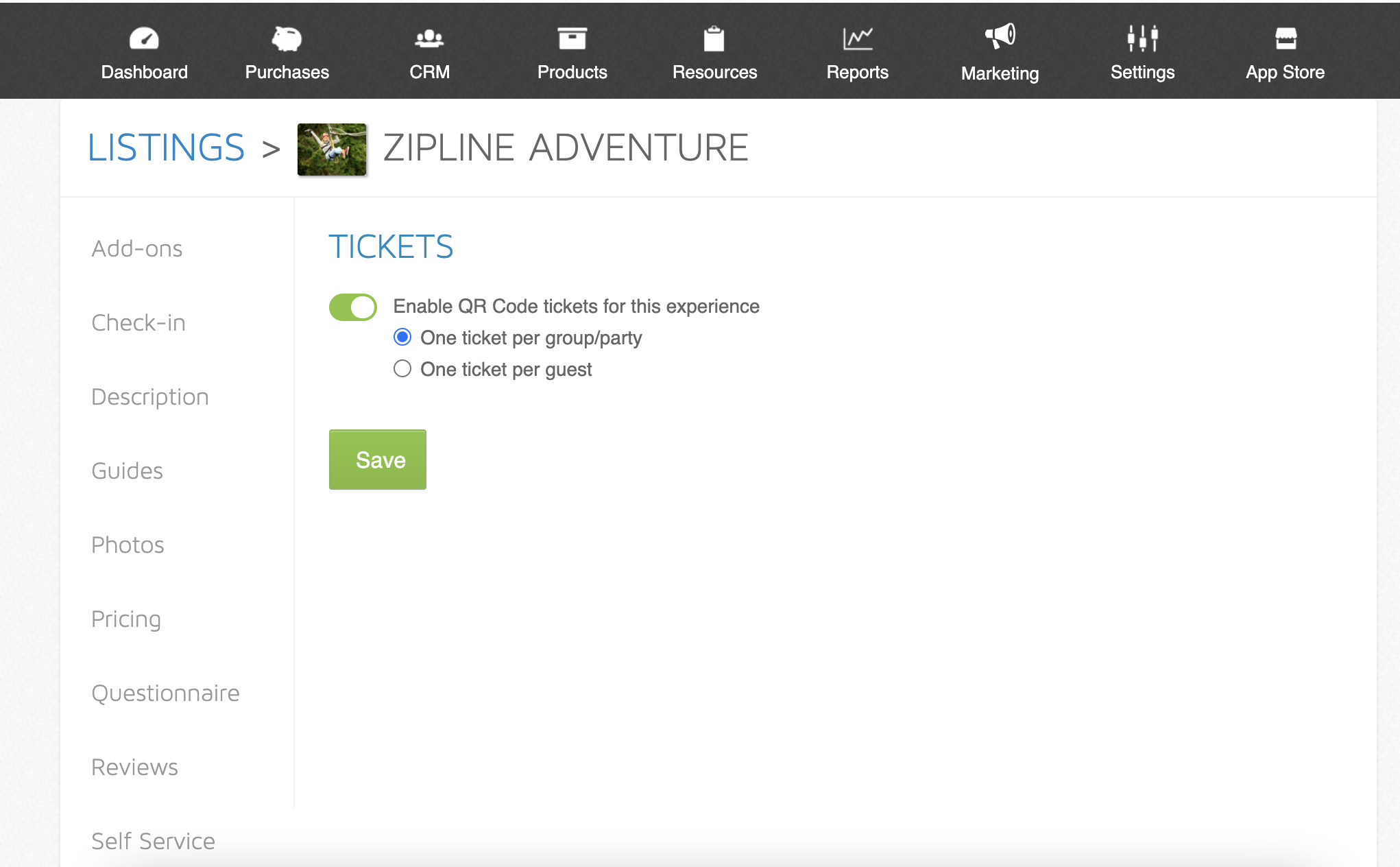 Note: This is a listing-specific feature, meaning you can choose to turn on and off the feature at the listing level. Not all listings have to use this feature.
Set Up Users:
All admins and primary account owners will have access to use this app. There is no permissions you will need to give these user types.
Affiliates will need to be set up in the Affiliate settings in order to use the app.
Navigate to Marketing > Affiliate Management.
Either choose to edit the existing Affiliate or set up a new one.
Beside the Email field in the affiliate set up screen, you will see the Redemption App Toggle: This is where if you want the affiliate to use the redemption app, you can toggle this on.

When an affiliate is given access to the Redemption app, the affiliate should get a "set password email". This email and password are what they will log into the app from.

Toggle on login access and click Save

Note: If you do not see this toggle please reach out to Xola Support to turn on Affilite Login for your account.

Now go to permissions on the left-hand side and choose the listing which this affiliate is allowed to use the Redemption App for.
Now have your staff (Admin users) and Affiliates download the Xola Ticket Redemption App on iPhone

How to Download the Ticket Redemption App on your iPhone
Go to the Apple App store on your iPhone
Search Xola Redemption and Install the App
Once installed open the App
Log in to your Xola Account

This must be a Primary or Admin user
How to Use the Ticket Redemption App
Log in to the app on your iPhone
Go to Scan Code, you may need to grant the app access to your camera.
Have the customer pull up the QR code on their phone, or printed out email.
Hover your iPhone over the QR code.
You will be greeted with one of the following Screens:
Checked In: Meaning that the check-in was successful and you can continue to check in the guest.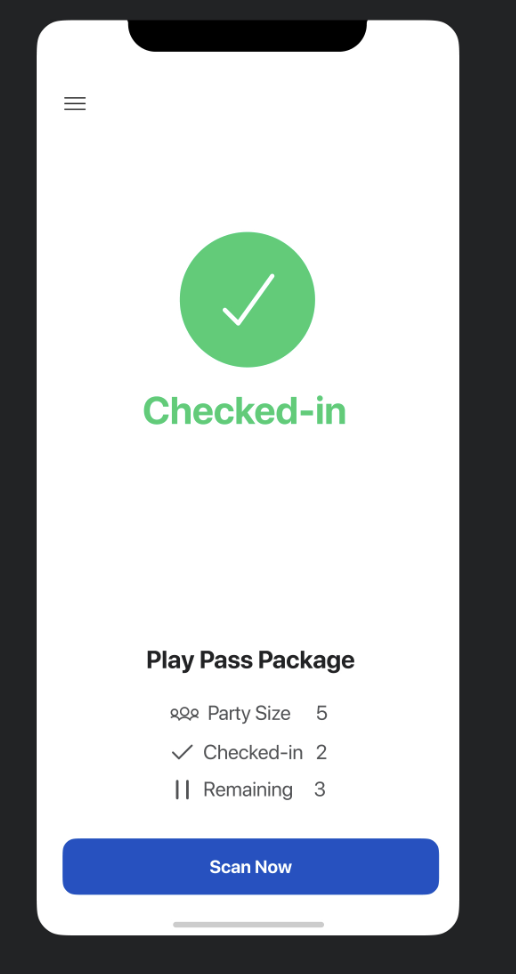 Already Checked-in: meaning that this code has already been used to be checked in.

Expired: meaning that the ticket is outside the validation window set in your listing. Learn more here.

Invalid Code: meaning the code you are scanning is not an experience you have or the right QR code for your account. Double-check the ticket to make sure it is for your companies offerings.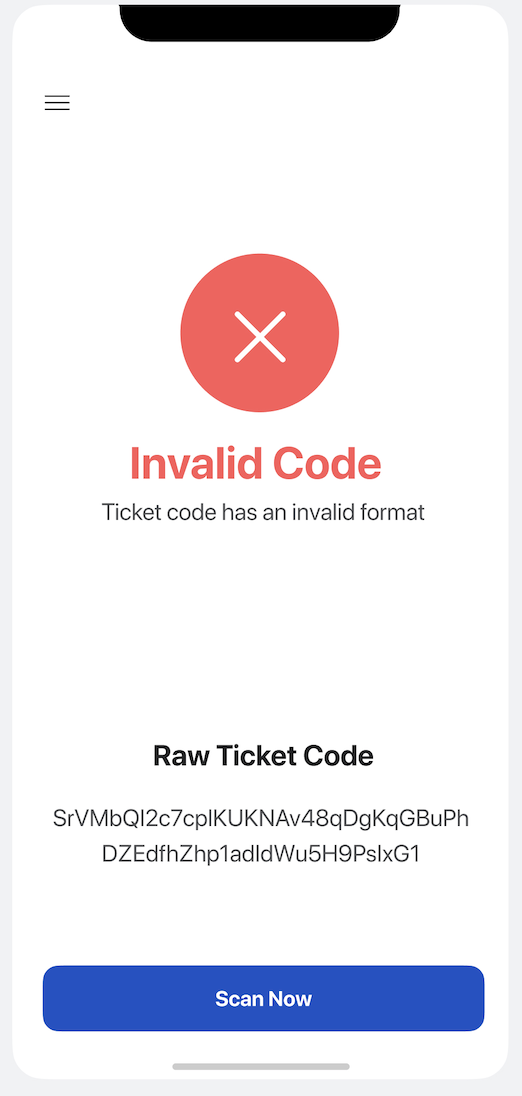 Note: After you have checked in a guest using the Ticket Redemption app, you can go back to your Dashboard (on your desktop or Xola Mobile App) and see the guest for that experience checked in. You can also see they are checked in on the purchases tab, under the timeline tab.