Multiple Private Events allows you to offer multiple events or experiences for the same time slot, as long as you have equipment available. This will allow you to utilize all of your equipment at the same time, whether this be for your vehicles, rooms, boats, or any equipment you are using.
---
What's covered in this article:
---
How to set up
To enable Multiple Private Events for your listing and equipment, please reach out to our support team.
Once enabled, any listings with equipment assigned to them and with private pricing enabled or set to per outing, will allow customers to book the same time slot, if there is available equipment.
Note: You must have Single Transaction For Multiple Reservations (MIST) enabled BEFORE Multi Private Events can be installed
Setting up your listing:
You will want to enable private pricing on your listing, if they are per person pricing.
Note: Private Pricing can only be enabled when a listing is per person. All per outing listings are already considered private and Multiple Private Events will work automatically.
Navigate to

Product > Listings > Find the listing and click edit
Now go to the Pricing tab on the left-hand side > Scroll down to Private Pricing and enable
When you enable private pricing you can choose whether bookings are always private or if you would like to allow the customer to choose at the time of booking. You can also set up pricing that is specific to private reservations and which schedules are eligible for private bookings.
Bookings are always private.

Enabling this will mean that only one booking will be allowed per event for this Listing.
Allow private bookings at the time of booking.

Enabling this will mean that you and your customers will be given the option to choose whether the booking is shared or private while the booking is being made. This will also allow you to switch between private and shared after the booking has been made.
If this option is chosen, you can choose which of your Listing's schedules you would like to offer the private booking option for.
Configure a special price that should be applied when the private booking option is selected.

A common use case is to offer per person pricing for shared bookings, and per outing pricing for private bookings.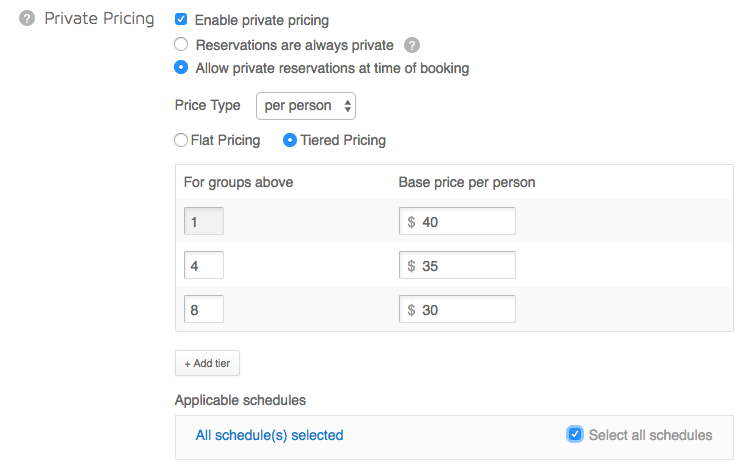 To learn more about private pricing and how this looks to your customer, click here.
Setting up your Equipment:
Navigate to

Resources > Equipment Management
Click the Green "Add +" button in the upper right corner to add a new piece of Equipment.
Set the name, capacity, and count of that particular item.

Capacity:

The number of spots a single equipment item can accommodate. For example, a bus with 10 seats should have a capacity of 10.
Count:

The number of identical equipment items. For example, if you have 3 buses that hold the exact same number of people, set the count to 3.

Add Schedules: Create a schedule to designate specific days/times that this equipment item is available or unavailable. (Leaving the schedule blank will default the equipment to always be available)
Listing Assignment:

Select which listings the equipment will be utilized by.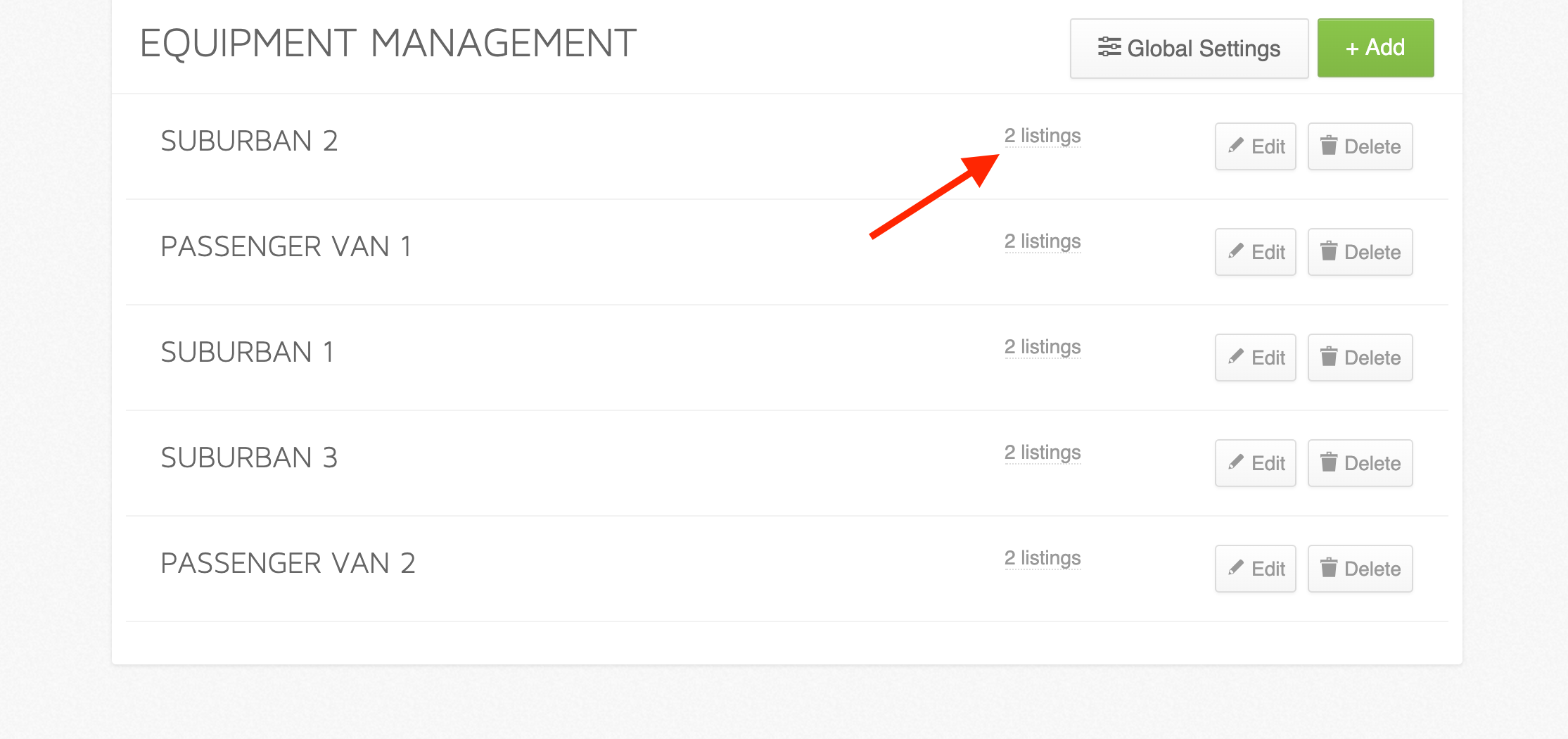 To learn more about Equipment Management and the settings, click here.
Note: If you have private pricing or your listing is per outing and equipment is tied to that listing, once Multiple Private events are enabled, multiple private groups will be able to book the same time slot as long as there is available equipment to facilitate the event.
How Multiple Private Events work
Let's look at an example. Let's say you run have a Snowcoach Tour, that requires 1 vehicle per tour, that holds up to 9 people. You also have 5 vehicles you can have out on the tour at the same time.
After you set up your listing and equipment, your customers will be able to book this experience as a shared experience on your website. They will see it as no different than as before. If you just enabled private pricing, your guests will be able to choose between a Shared or Private experience.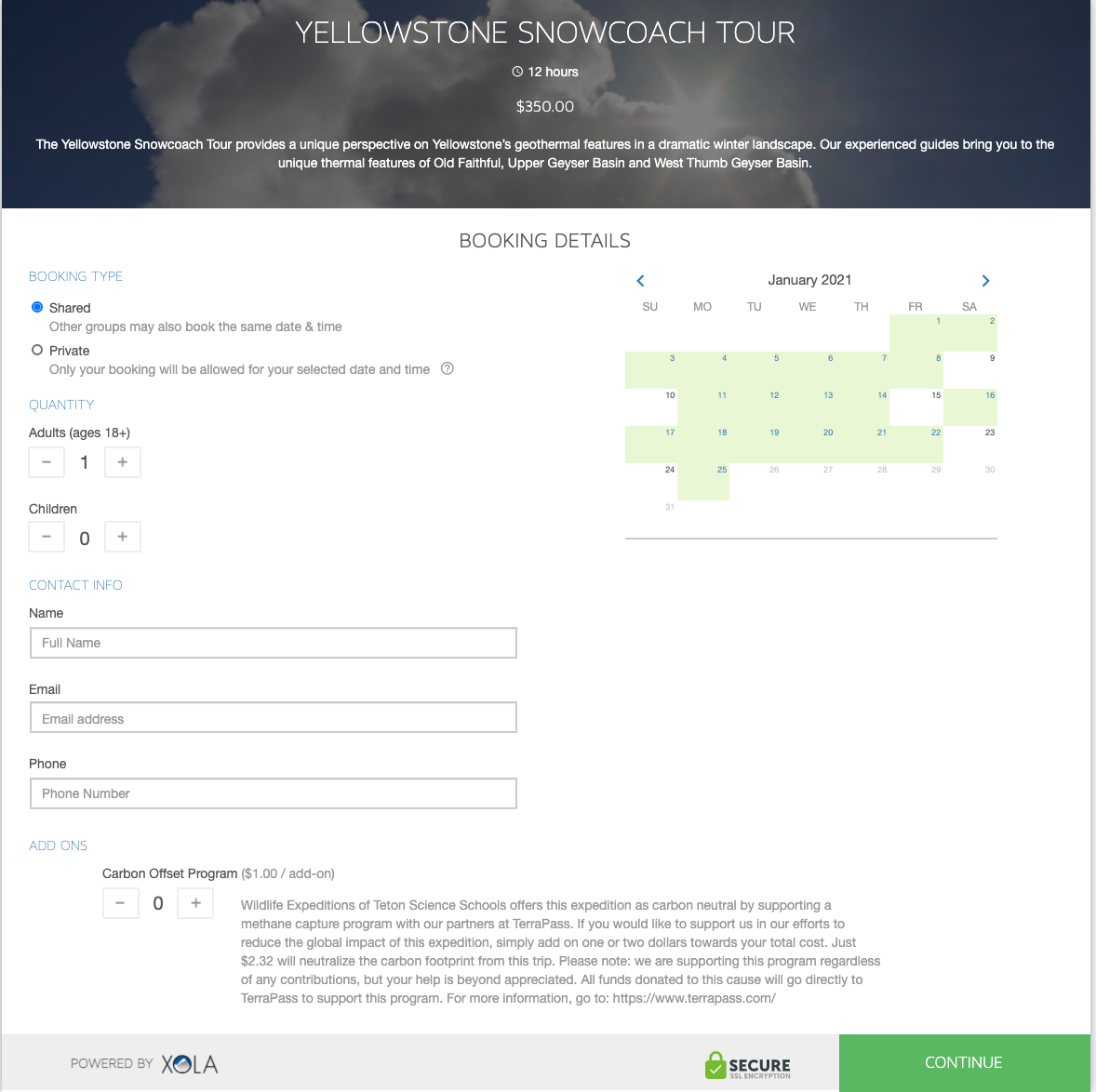 After a customer books, if you have additional equipment still available to facilitate another event, you will see that Xola has opened an additional event for the same time.

You can book another group, from the Dashboard as normal, or a group will still be able to book this time slot online. This will keep going until all your equipment is occupied. In this example, you could book up to 5 different groups, at 6:00am, because you have 5 vehicles tied to this listing from equipment.
Note: If you have Private Pricing set up, to allow Shared and Private reservations, you can have a combination of Shared and Private bookings with Multiple Private Events.
If you click into your time slots, you can see which equipment is being used, and even modify that equipment, if needed.