Deputy is a platform that allows you to create guide schedules, swap shifts, assign tasks & notify staff with a click. With this integration, you can now reference and manage real-time bookings made through Xola directly from your Deputy dashboard. The integration is currently in Beta. If you are interested in participating in the beta, please let us know by selecting the "Request Access" button in the App Store.
This integration requires a Deputy account. You can sign up with them here.
---
After your Deputy account is up and running, you can integrate it with your Xola account by following these steps:
Locate Deputy in the Xola App Store and select it.
Click INSTALL and agree to the terms of service.
Authorize your Deputy account by entering the primary username and password.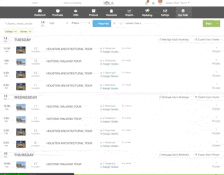 Now that your Xola account is linked to Deputy, all new bookings made in Xola will appear within your Deputy account as an Open/Empty Shift. From there you can assign your guides or allow them to assign themselves to Open Shifts.