Selling Gifts is a great way to boost your revenue, especially during the winter and holiday season with Black Friday, Cyber Monday, and Christmas. Gifts offer so much potential as a revenue stream that we wrote a roundup of the top tips to sell more gifts. You can give it a read here.
---
What's covered in this article:
---
Creating a Gift Offer
By default, Xola allows you to sell your listings as full-price gift certificates. You can also sell gift certificates at a fixed or variable price that can be applied across some or all of your experiences.
Hover over the Products tab and select Gift Offers.
Click +Create a Gift Offer.
Give the gift a Name.
Choose between Fixed price (i.e. $100 gift costs $80) or Variable price (i.e. 20% off all gifts of $50 or more).

For a Fixed price gift offer, specify the Purchase Price and Gift Value.

Purchase price: The price that your customer will pay at time of gift purchase.
Gift value: The amount that the gift can be redeemed for.

For a Variable price gift offer, specify the Discount and, optionally, Minimum price.

Write a Description. Customers will see this description at checkout.
Now that you've set up the basics, you can choose whether or not to have various restrictions on your gift offer.
The Gift Purchase Window constrains the time period in which the gift offer can be purchased. For example, it could be a special for the month of May with a Purchase Window of 5/1 - 5/31 or a Black Friday/Cyber Monday special with a Purchase Window of 11/23 - 11/26.
Additionally you can set an Arrival Window which designates when the promotional value can be redeemed. The amount paid can never be restricted from redemption but you can set up an Arrival Window for the promotional value. This is a great way to set an "Expiration Date" for the promotional value. While the amount paid will never expire, you can control how long the promotional amount is valid. You could also use this to restrict redemption over your busy season.
Setting a Listing Restriction will mean this Gift Offer only applies to certain experiences.
In this example, where I want my special to run from Black Friday to Cyber Monday, the Purchase window spans those dates. In order to have the promotional value expire at the end of 2019 I have an Arrival Window that ends 12/31/2019. And in order to block the redemption of promotional value over spring break Blackout dates have been added for that week.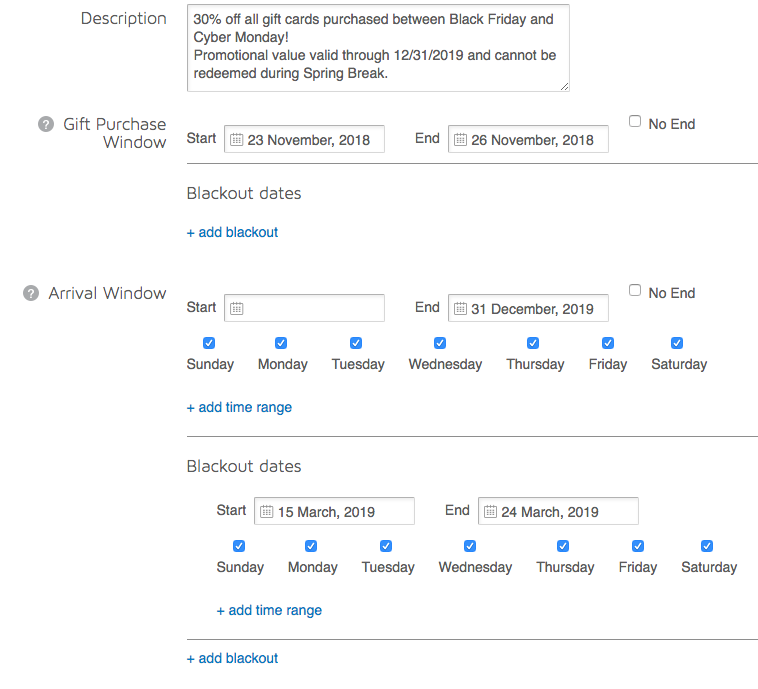 Note: If you edit a gift offers restrictions later, you will be asked if you want to update all existing gift purchased or not. If you chose to update them, all gift offers that have not been used, will now have the new restrictions you changed applied to them.
Create or Edit a Gift Button
After you Save your gift offer, you can upload a photo that will be displayed at checkout.
Then you'll want to Create a Gift Button in order to easily sell your Gift Offer online!
Gift Preferences
There are a number of settings that you can choose for Gifts. Navigate to Settings > Preferences and scroll down to Gifts.
Multiple Gifts in a Single Transaction
If you check this box, your customers can purchase multiple gifts in a single transaction rather than going through the checkout workflow multiple times.
Demographic Pricing
Show all demographic pricing options in gift purchase checkout. This will allow your customers to purchases a gift for the different demographics you offer. IE Adults, Children, Veterans, etc.
Customer Emails
If you check this box, the gift recipient will receive an email with their gift code and tiles for other experiences you offer. If you are selling gift offers with listing restrictions, we recommend you uncheck this box.
Customer Phone Number Required
If you check this box, gift purchasers must provide a phone number when buying a gift.
Enable Captcha
You can check this box if you have experience fraudulent gift purchases and want to mitigate bots that purchase gifts.
Gift Reminder
Check this box to remind gift recipients of an unused balance.

The Customer Experience
The Gift purchaser can choose to send the gift certificate directly to the recipient or have it sent to themself to print out or forward to the recipient at a later date.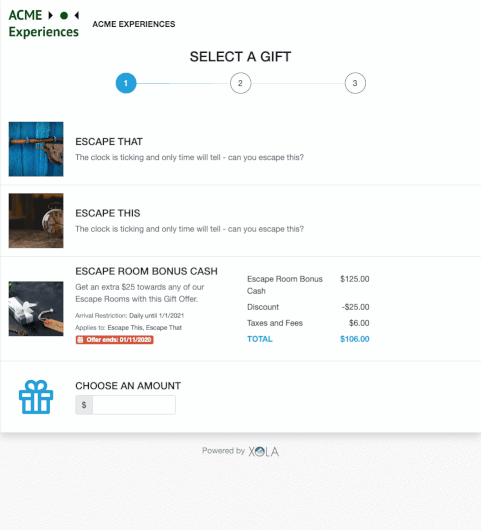 Here is an example of the email sent to the Gift Recipient.
Purchase a Gift in the Xola Back Office
Any Xola user with access to the Dashboard can make a back office gift purchase for a customer.
Navigate to the Dashboard and click the downward-facing arrow next to the Book button.
Select Purchase a Gift.
In the window that opens, choose the gift. If prompted, enter amount or quantity. Then click Select.
Enter in the recipient contact information and an optional personal message. Select whether you would like the gift certificate email to be sent to the purchaser or recipient's email address. Then click Next.
Optionally "Enter gift code" which lets you select the gift code rather than a randomly generated alphanumeric code.
Enter the name and contact information of the gift purchaser.
Select the method of payment for the gift purchaser. If it's a credit card, enter in the details.
Optionally add another gift for which you can select a separate recipient.
Click Pay.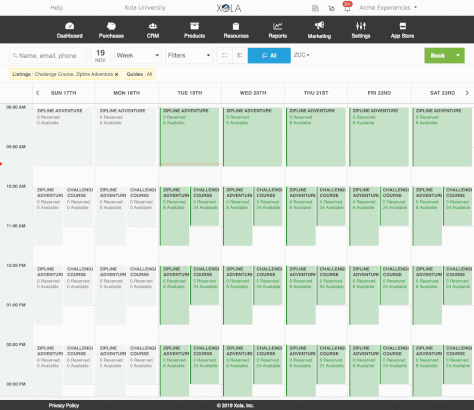 The purchaser will be sent the gift receipt and the purchaser or recipient will be sent the gift confirmation as indicated. The gift will appear in the Purchases and Gift / Store Credits tab in your Xola account.
Managing Gifts
The Gifts/Store Credit tab under the main Reports tab contains records of gift certificate and store credit codes issued. When you click onto the row of a gift or store credit, you'll see its timeline and record of modifications. From inside the credit you can take the following actions that are detailed below:
Resend gift emails
Allows you to re-send the gift certificate confirmation email to the recipient or purchaser.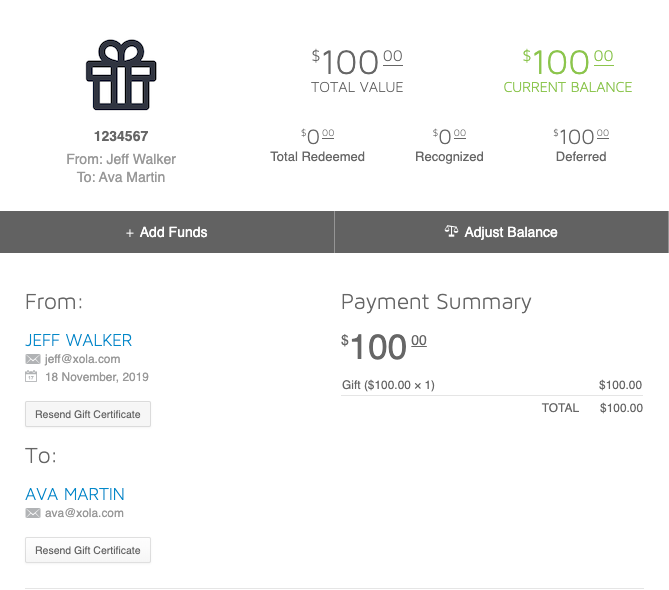 Add funds
When you Add Funds to a gift or store credit, you increase the redeemable value of the credit by charging the purchaser additional funds. You can charge the existing card on file or add a new one to complete the transaction, and the gift or credit will automatically update to reflect the new balance.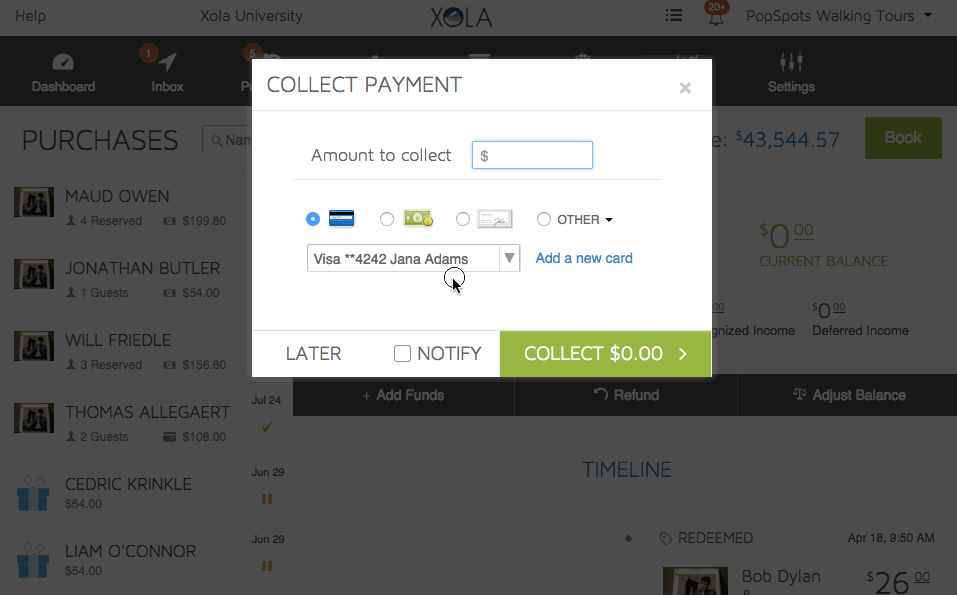 Refund
You can decrease the redeemable value of the gift certificate when you Refund a gift. If you are refunding via credit card you can only refund the card used to purchase the gift or experience. After you complete the refund the gift or credit will automatically update to reflect the new balance.

Adjust Balance
When you Adjust Balance for a gift or store credit, you increase or decrease the value of the credit without affecting the total amount paid by the purchaser. Any increase or decrease made to the gift or credit will only affect its redeemable value.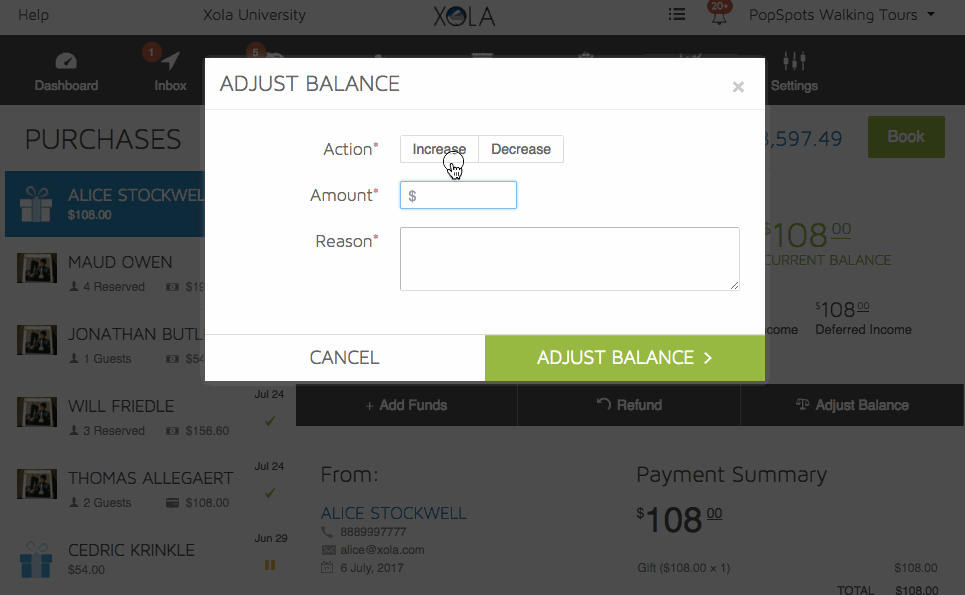 Frequently asked questions
How does gift reporting work?
Xola has a dedicated gift and store credit report. You can read the full help center article here.
How do I get a link to my gift checkout?
Simply preview the button and then copy the URL to link people directly to your gifts. You'll go to Settings > Button Code > Gifts. Then, +Create New Button or choose and existing one. Hover over the button title and click Preview. Clicking preview will open gift checkout in a new window. You can then Copy & Paste the URL from your browser and share it with customers.
How do I see how much is left on a gift certificate?
You can search for the purchase record from the gift & credit report and see the amount redeemed and the outstanding balance. You can read the full help center article here.
What happens if someone attempts to redeem a gift offer outside the restrictions set up?
If your customer attempts to book an experience that is not part of the gift offer then only the purchase price will be applied. If a $100 credit was bought for $75 only $75 will be applied. They will also get a warning telling them what the restrictions are so that they can opt to change their purchase to redeem the promotional value.
How do I get people to purchase gifts?
Great question! We've put together 12 tips to sell more gifts. You can read them all here.
How do I manage gifts after I've sold them?
Xola lets you cancel, refund, or adjust the balance on a gift or credit. You can also resend gift confirmation emails. You can learn more about doing this here.
How does a customer redeem their gift?
They simply add their code at checkout in the section that says "Have a code?". If they are using the gift in person or over the phone you can add the code during the checkout process. Learn more here. Multiple gift codes can be applied to a single purchase and up to one coupon can be used alongside gifts.
Does Xola have a way for me to sell physical gift cards?
Xola does not integrate with physical gift card sales. You can however enter a custom code when purchasing a gift in the back-office. So if you get cards printed with codes on them you can type that code in and have the physical card tied to an e-gift as well.
How do I change which listings show up in the email to my customers?
Simply update your Gift Preferences under the Settings Tab.