Xola's Advanced Pricing allows you to set up your experience pricing in the way that matches your business needs. Whether you want to offer group discounts, tiered pricing, private outings, or more, this section lets you customize all your pricing preferences in one spot.
---
Pricing Types
Note: It is best to make updates to your pricing outside your normal or busy business hours as your team will need to log out of and back into Xola to make bookings after pricing changes are made on your account.
Per Person vs. Per Outing Pricing
You have the option for your listing to be priced either per person or per outing. Per Person pricing will change the total price based on the number of individuals booking. Per Outing pricing will be a private experience, meaning only one group is allowed to book that timeslot. The pricing can be flat or tiered, based on group size and the preferences you set.
Flat Pricing
With Flat Pricing (for per person or per outing) the total number of people booking has no impact on the price. Whatever you have set for the demographic or outing price will be the cost.
Tiered Pricing
With Tiered Pricing, the price you charge changes when group size thresholds are passed. For example if you do Tiered Per Outing Pricing you could do the following:

Or for Tiered Per Person Pricing you could set up something like this:

Your customers are able to use coupons at checkout when you use tiered pricing.
Group Discounts
Group Discounts can only be used with Per Person pricing and cannot be combined with Tiered Pricing. This option allows you to offer percentage based discounts for groups while imposing a limit on the maximum discount. For Example you could do the following: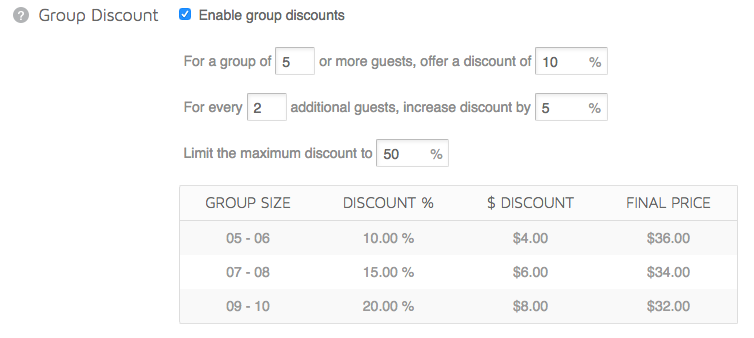 When a booking hits the group minimum during checkout, the group discount will automatically be calculated and applied to the booking. You are not able to apply coupons to a booking when you use group discounts.
Private Pricing
If a Listing is priced per person, you have the option to offer two different booking types to customers. They are:
Shared: Multiple groups are allowed to book the same event. This is Xola's default booking type, and will apply when private pricing is either not configured or not selected by the customer during the booking process.

Private: Only one group is allowed to book per event.
When you enable private pricing you can choose whether bookings are always private or allow the customer to choose at time of booking. You can also set up pricing that is specific to private reservations and which schedules are eligible for private bookings. You can learn more about setting up Private Pricing here.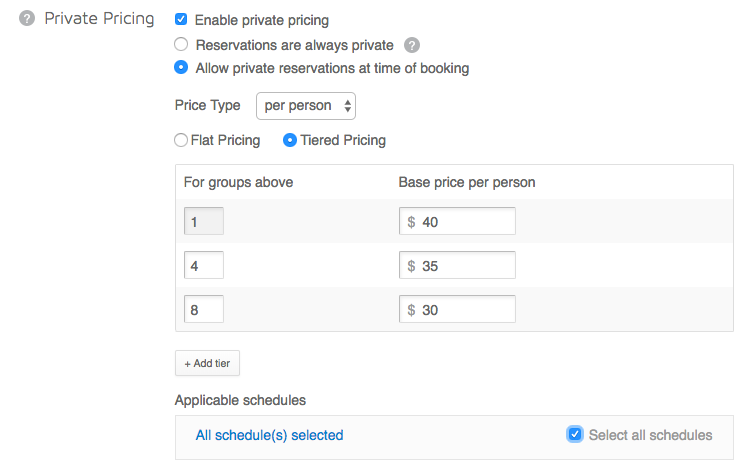 Payment Collection Preferences
Deposits and Balances
By setting up Down Deposits, you provide your customer to pay only a deposit at checkout with the remaining balance due at a specified time. A deposit can be set up as a fixed amount per person or per booking or a percentage of the entire price.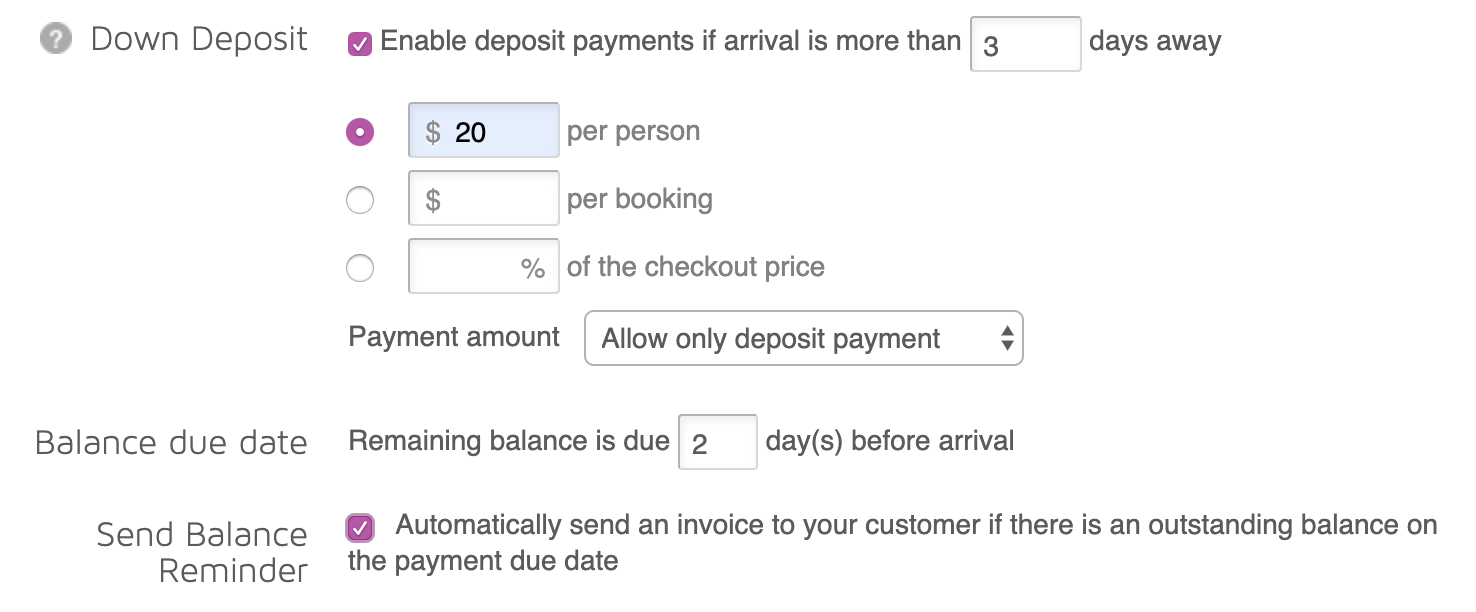 You also have the option to automatically invoice customers for the balance due before their arrival or collect their payment manually in person or over the phone. Xola does not automatically collect balances. You can see which purchases have payment due from the Pending Actions Notification Bell within Xola.
Finally, if you want to make it so your customer can only pay the deposit up front and not have the option to pay the full amount you can do that too.
You can also set up your Self Service options to allow customers to make payment via invoice for any balance due prior to their experience.