Discount Coupon codes are the traditional dollar amount or percentage off coupon. Five dollars off per booking, 10% off during the holiday season, you know the drill. These can be applied during checkout or to an existing purchase.
CREATE A DISCOUNT COUPON
1. Choose Coupon
Navigate to the Marketing tab and select Coupons.
Select the green Create a Coupon button, located on the right-hand side of the screen.
Choose Discount.
2. Description
In the Campaign field, give your campaign a name. This name will not affect your coupon's code(s).
If you'd like to automatically generate a tag for bookings made with a code from this campaign, you can designate tags in the Tag bookings with field.
Set your coupon's Terms. In this section, you'll need to choose per person or per outting booking discounts, which demographics your coupon can be applied to, and how many demographics must be booked in order for a booking to qualify for a discount. 
Specify whether or not you would like to Remove Taxes and Fees from a booking when the coupon is applied.
Example:
In this example, a 50% discount would be given to one demographic of equal or lesser value for every 2 adults that are booked. This account happens to have the demographics of Adults and Children. So, for every 2 Adults that are booked, the customer would get 50% off of either an additional Adult or Child.
3. Restrictions
Here you can limit how and when your code(s) will be able to be applied.
Purchase Window: Limits the dates within which this code can be applied to a booking.

Example: You want to make a code that can only be redeemed during the month of November. After November is over, you don't want customers to be able to apply the code anymore. Here you would set your start date to 1 November and your end date to 30 November. 
Blackout dates: by adding a blackout date, you can specify dates and times that the coupon cannot be redeemed. 
Arrival Window: Limits the start date and start time of the events that this code can be applied to.

Example: You want to incentivize customers to book trips that occur next summer, so you would set your start date to 1 June and your end date to 31 August of next year. You can specify even further by placing restrictions on which day of the week and time of day your coupon can apply to.
Blackout dates: by adding a blackout date, you can specify event start dates and start times that the coupon cannot be redeemed.

Select Listings: Select if you would like this coupon to be applicable to all listings, or select individual ones.
4. Code(s)
Here you'll create the actual code that must be entered while making a booking to provide the value you have just created.
Type your desired code text into the box, it can contain any combination of letters, numbers and special characters. Your code may not contain any spaces. You can create more than one code for the same campaign.
Choose between One Time Use, Limited Use, and Unlimited Use. 

After a One Time Use coupon is applied to a booking, its status will change from 'Active' to 'Void' and will not be able to be used again. 
If you select Limited use, the number you specify as the usage limit will be the maximum number of times that each code in your campaign can be used. 
Tip:
 Add multiple codes at once by entering text separated by commas, or as 
line items
line items
line items
Below is and example of applying a discount coupon: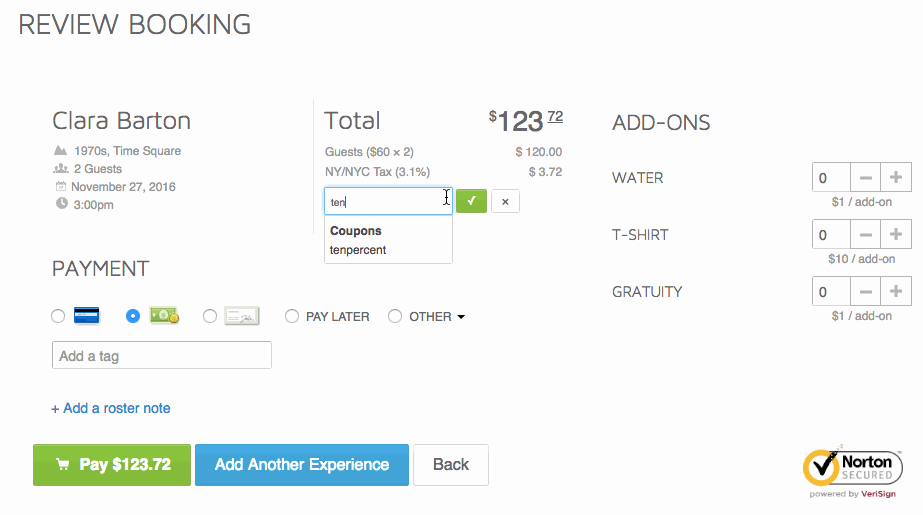 For more information on other coupon types click here.