Xola's Abandoned Booking Recovery feature allows you to configure automated remarketing that engages customers who started making a booking through one of your checkout buttons but did not complete the purchase. It's a great way to gain incremental revenue that may otherwise have been lost!
---
What's covered in this article:
---
How to enable Abandoned Booking Recovery
Navigate to the Xola App Store by clicking the App Store tab in the upper right-hand corner.

Locate Abandon Booking Recovery and select the App Store tile.
Click the green Install button

All is set up and ready to go!
By default, Abandoned Booking Recovery emails have the following text and the timing is sent our 8 hours after the cart was abandoned: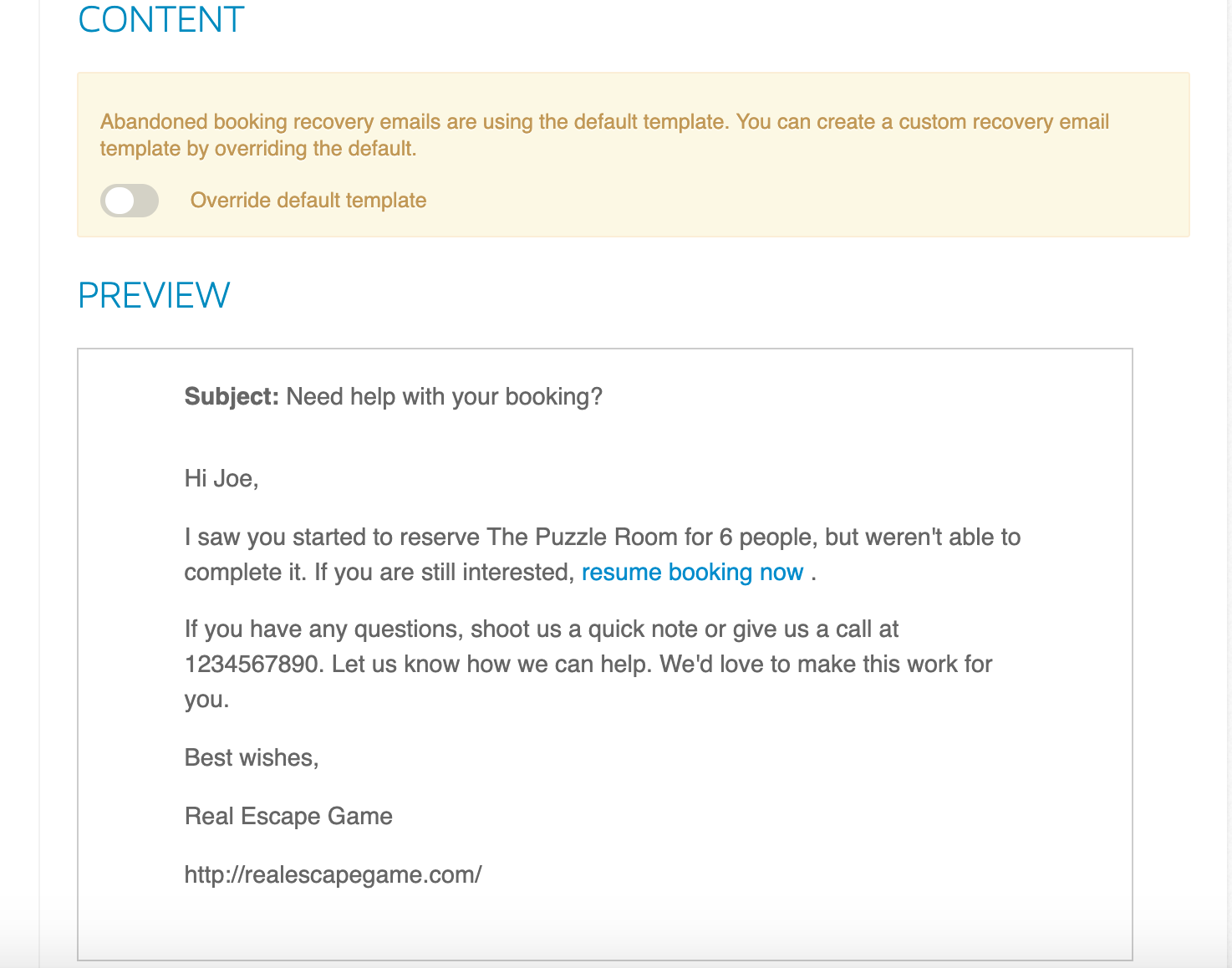 How to customize Abandoned Booking Recovery
After navigating to Marketing > Abandoned Booking Recovery:
You can choose to override this content and create your own email by toggling the override default template option. You can learn more about Abandoned Booking Email Best Practices in this article.
If you override the default, you can customize the Subject, From Name, Reply to Email. In addition to your own text, you have several variables to choose from when adding custom content to your email. These variables will dynamically populate content in the email based on the abandoned booking in question.
Arrival: will auto-populate the start date entered by the customer
Company: your company's name, as entered in the settings tab
Company email: your account's primary email address
Company communication email: your account's communication email address
Company phone: your company's phone number, as entered in the settings tab
Company website: your company's website, as entered in the settings tab
Customer name: will auto-populate what the customer entered in the name field
Listing name: will show the name of the Listing that was abandoned
Quantity count: will show only the number of demographics entered by the customer
Quantity: will show the number and name of the demographics entered
Resume button: will display a green button that reads "Resume Booking". This button will open up a checkout window for the booking that was abandoned.
Resume link: allows you to customize a link that leads to a checkout window for the booking that was abandoned.
Example:
Note: we do not recommend using the template below for your emails. You can learn more about Abandoned Booking Email Best Practices in this article.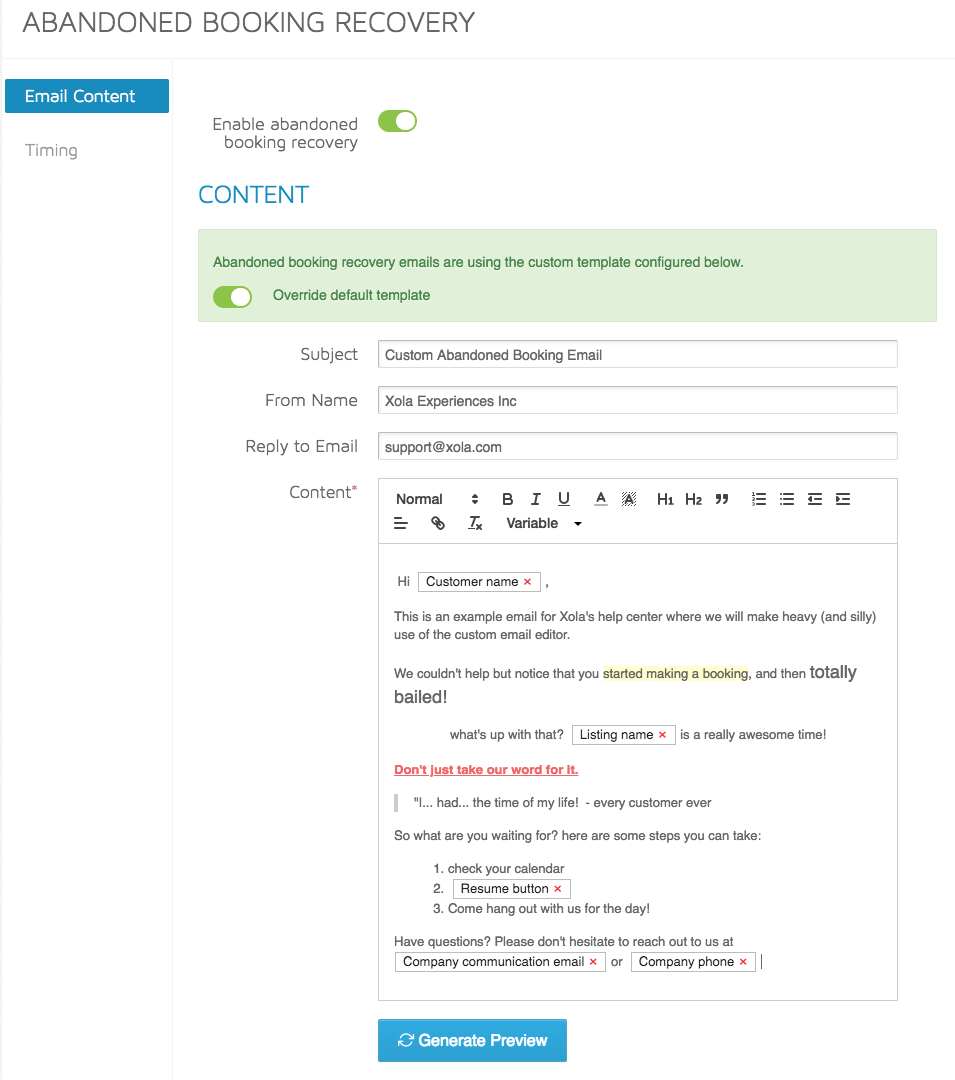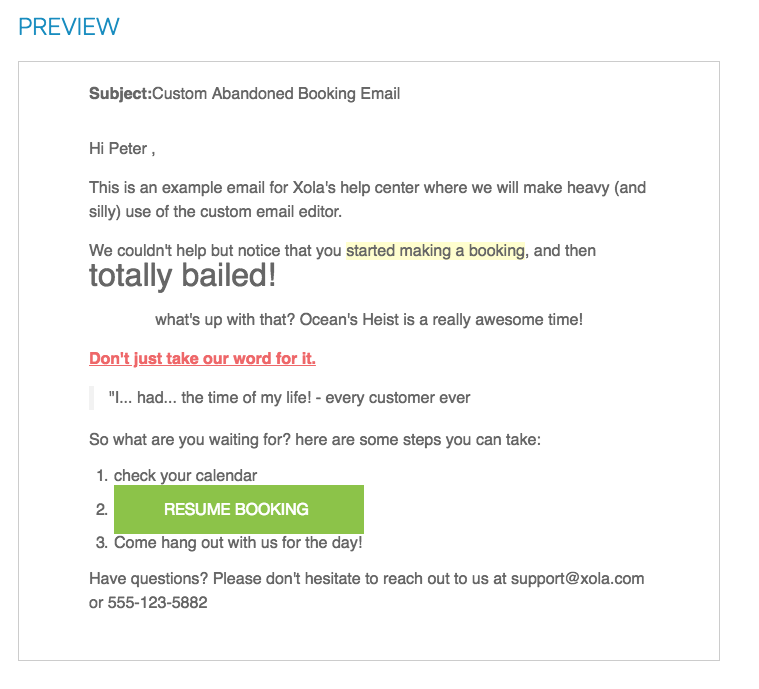 Email send timing
By default, abandoned booking recovery emails are sent 8 hours after the booking has been abandoned. Bookings are considered abandoned after 1 hour of inactivity from the customer. If the customer drops off the Payment Details page and does not return within an hour, that booking is now considered "abandoned". You can choose to override these settings and implement your custom timing.
Timing: This parameter allows you to designate how long after the one hour of inactivity you'd like to have your Abandoned Booking recovery email be sent.
Send Window: Here, you can choose between
Any time: This means the email will be sent as soon as your specified timing hits, no matter what time of day that moment occurs.
Within time range: here, you can specify a "window" of time within which you'd like to allow Abandoned booking recovery emails to be sent. If your specified send timing falls outside your Send Window, the email will be sent at the beginning of your send window the next day.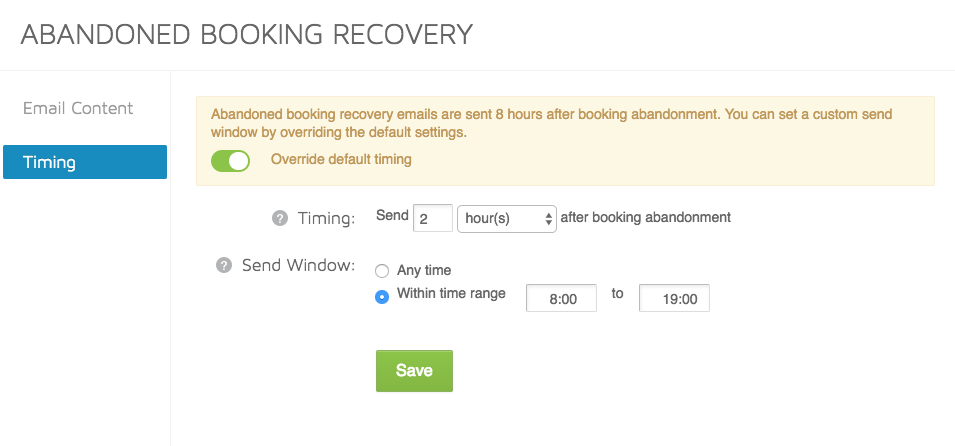 How Abandoned Booking Recovery works
If a customer begins the checkout process by entering booking information on the Booking Details page of one of your checkout windows and reaches the Payment Details page but does not follow through with the purchase, this booking will be considered "abandoned" after one hour of inactivity.
They will then be sent an email inviting them to finish the booking they started.
If a customer returns and completes their booking, the purchase will automatically be tagged with a "rescue" tag.
You can also see an Abandoned Bookings Report, which contains information about abandoned bookings, including a column indicating whether or not they were recovered and booked via Abandoned Booking Recovery.