*Zapier is a new integration and is currently in Beta. If you'd like to join the Beta, follow the steps below to get started! 
--
Connect your Xola account to Zapier
Click on this beta invite link.

Click the orange "Accept invite & Build a Zap" button.

Follow the on-screen instructions to Connect your Xola account to Zapier.
A few important notes:
When you are prompted to sign in to Xola to get your API key, you must sign in with the

Primary Account Email

for your Xola account. If you're not sure what email that is, feel free to ask us via chat or email!

When you go to get your API key, you'll be shown something like this:




["fsklfsdlkfjwmsdkfjsmclsk394o439534905n"]




Your API key is the string of text between the quotation marks. Copy the API key, go back to the "Allow Zapier to access Xola Account" page, paste the API key in the API key field, then select Yes, Continue.
Once your account is connected, it's time to create some zaps. You can now trigger an action across thousands of different softwares for Xola related activity!
Make a new Zap based on a Xola Trigger
Select the orange "Make a Zap" button, located in your Zapier account
Choose Xola as your Trigger App
Select which Xola trigger you'd like to use

New Booking
Booking Update
Booking Canceled
New Experience
Experience Update

Set up your Action

In this step you'll choose which of Zapier's connected apps you would like an action to happen for based on your Xola trigger.
Zapier allows you to connect to thousands of different apps - for a complete list of their integrations, check out this page: https://zapier.com/apps

Save your Zap.
Now that you've saved your new Xola Trigger + Zap, Zapier will take action for you automatically based on activity in your Xola account!
Select Xola as your Trigger: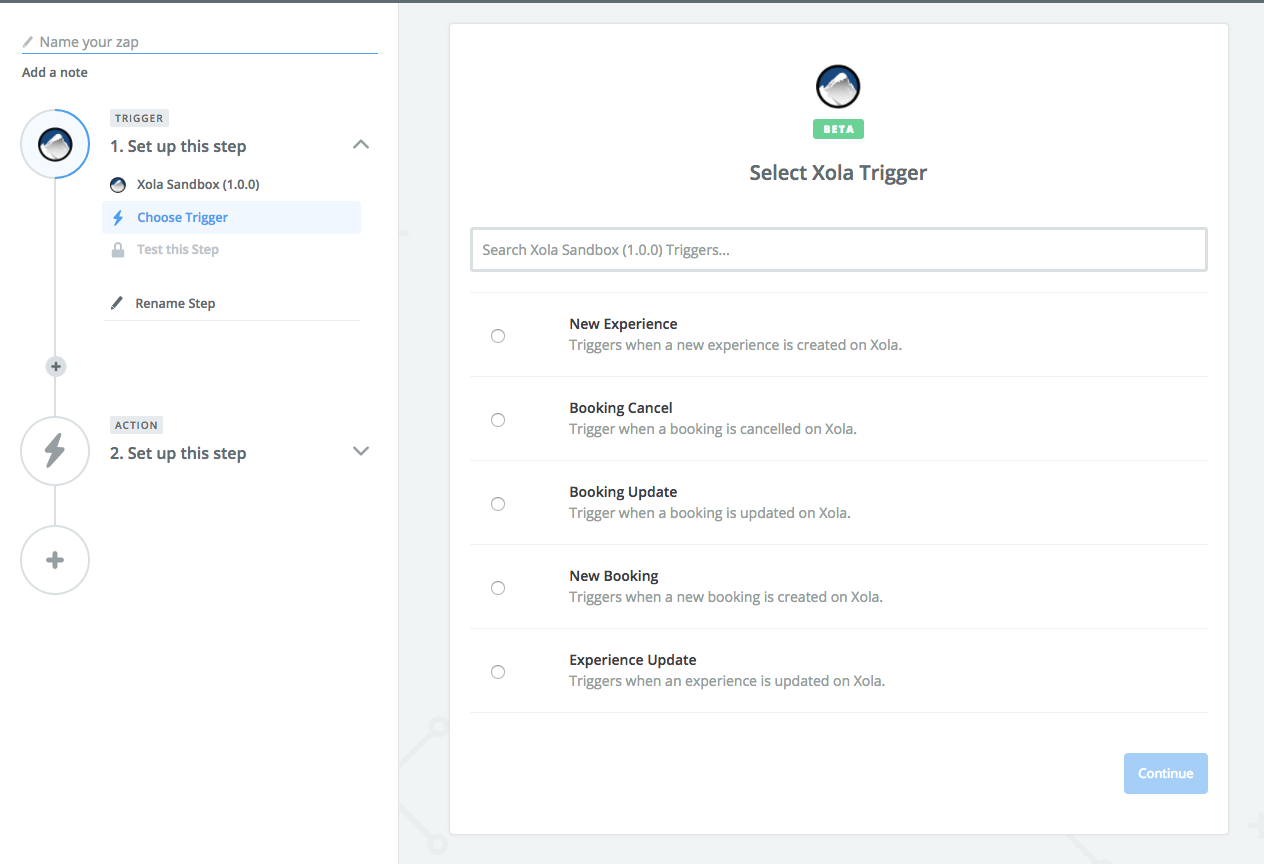 Select an action app: