Zapier allows you to connect your Xola account to thousands of other services that help you run your business.
For example, lets say do you use a email marketing software to stay in touch with your customers. You could easily configure Zapier to automatically sync new bookings to your email marketing list. This is just one of thousands of ways you could use the integration.
This article will show you how to do three things:
Connect your Xola account to your Zapier account.
Build a Zap using a Xola created Zap Templates
Build your own Zap from scratch.
1. Connect your Xola account to Zapier
The first step is to connect your Zapier account to Xola.
If you do not already have a Zapier account, you can get one free by going here. Zapier has both free and paid accounts and Xola works with both. You can read more about the difference between Free and Paid accounts on the Zapier Pricing Page.
In addition, you will also need your account Xola API key to connect Xola and Zapier. To view your account API key, you must have the login credentials for your Xola account administrator and for also for API access to be enabled for your account. If you have questions about those two requirements, please reach our to our support team who can assist you. 
Once those requirements are met, please follow the below steps to connect your Xola account to Zapier.
Log in to Xola as the account administrator. Click on Setting from the top navigation and select Account from the left navigation. You will see a section called "Api Details" if both the pre-requisites noted above have been satisfied. Copy your API key. You will need to select the 'eye' icon to reveal it.
Log in to your Zapier account. Select Connected Accounts from the top navigation (link). 
In the Connected Account search box, type Xola, and select Xola from the drop down. 
A new window or tab will open. Paste your API key and submit. That page should then close and you should be brought back to your Connected Accounts page where you will see Xola as a connected account.
You can verify Xola and Zapier are connected by selecting Test. 
Once your account is connected, it's time to create some zaps! You can now trigger an action across thousands of different softwares for Xola related activity. 
You have two options. You can create a custom Zap or use one a predefined template created by Xola. 
2. Use Pre-made Zaps built by Xola
You are also able to use Zaps built by the Xola team! Please follow these steps to use one of our pre-made Zap Templates.
Go the the Xola Integration page on Zapier.
Under Ways To Automate locate a Zap you would like to use and then select USE THIS ZAP.
You will be brought to a page that describes what the integration does. If you would like to use the Zap, simply select Create this Zap and follow all of the prompts.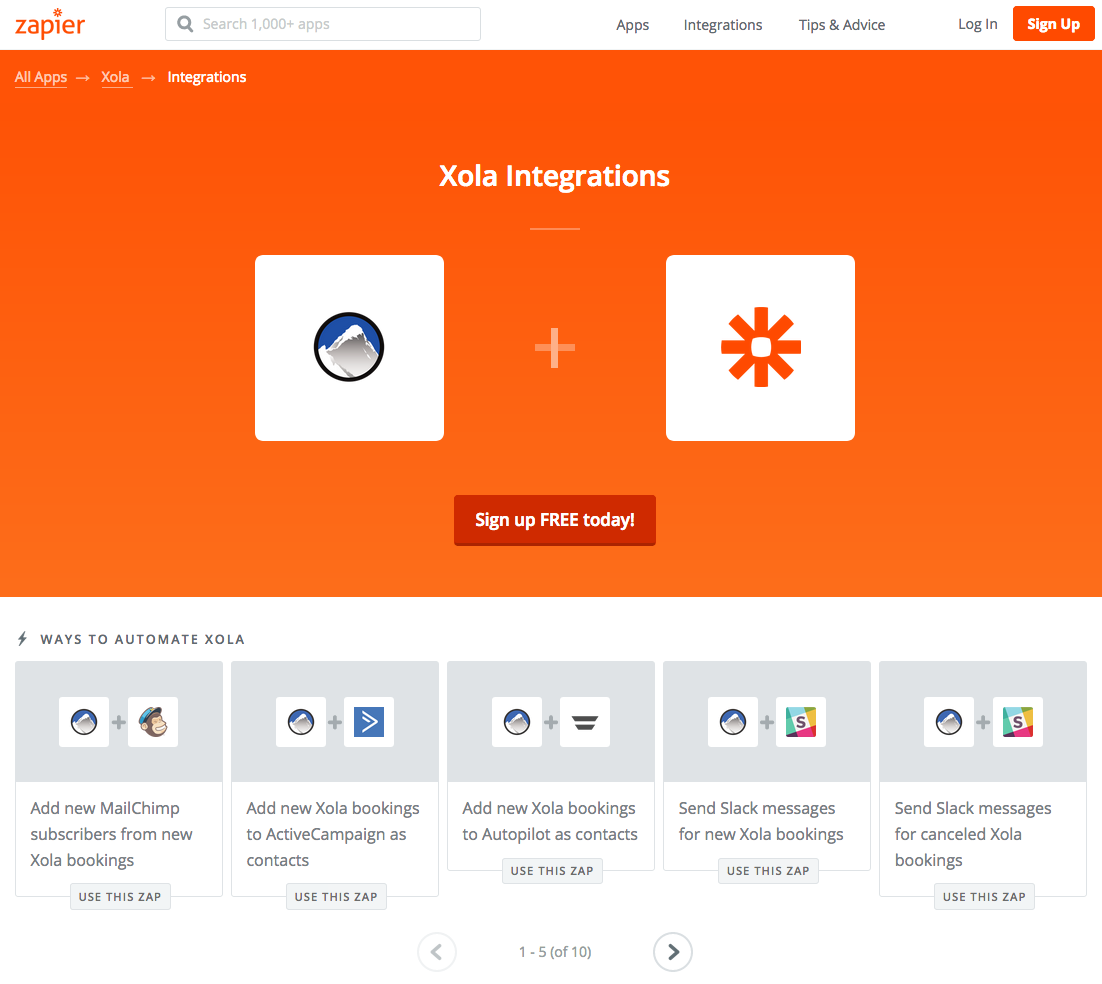 3. Make a Custom Zap
A custom Zap allows you a tremendous amount of flexibility on where Xola data is pushed and what happens to that once it arrives in its destination. The following steps will walk you though how to create your own custom Zap unique to your business.
Select the orange "Make a Zap" button, located in your Zapier account
Choose Xola as your Trigger App
Select which Xola trigger you'd like to use.

New Booking
Booking Update
Booking Canceled
New Experience
Experience Update

Set up your Action

In this step you'll choose which of Zapier's connected apps you would like an action to happen for based on your Xola trigger.
Zapier allows you to connect to thousands of different apps - for a complete list of their integrations, check out this page: https://zapier.com/apps

Save your Zap.
Now that you've saved your new Xola Trigger + Zap, Zapier will take action for you automatically based on activity in your Xola account!