The steps below detail how to make a back office booking in Xola and accept and process payment.
---
Make a Booking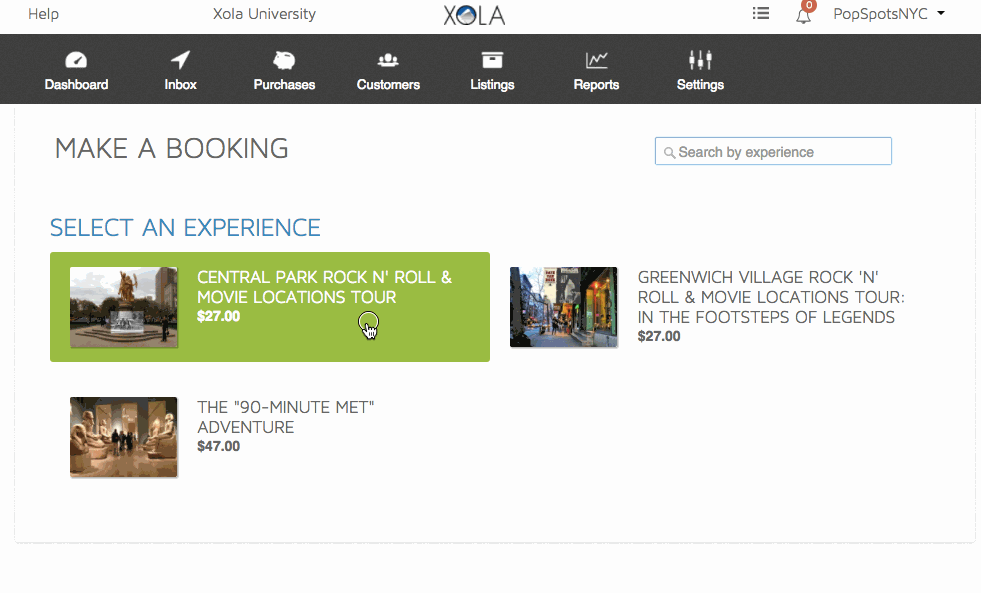 From the Dashboard or Purchases tab, click the the green Book button and choose an experience to book.
Select the Experience the customer would like to book.
Enter Booking Details.

Customer Name
Customer Email
Customer Phone (optional)
Number of Guests
Trip Date & Time

Enter payment details.

Do not charge card now: This will store your customer's card information but will not yet charge the customer. You can later go into the customer purchase to collect on the balance.
Pay Later: This allows the customer to reserve their spot without collecting any payment. You can later go into the customer purchase to collect on the balance.
Check: We recommend noting the check number in the comment section.

Apply code (optional): Click here to learn how to set up codes for discounts, deals, gifts, and resellers.
Select payment method: (CC, Cash, Check, Other, Pay Later).
Add Notes (optional) - These will appear on the resulting booking page and in the trip's roster.
Add a Comment (optional): These will appear as tags on the purchase if paying by a method other than card. 
Click Pay.
After accepting payment, you will be prompted to complete the listing's questionnaire (if applicable). This step can be bypassed in the Xola App by clicking "Skip", but must be completed if the booking is made online.
After completing the questionnaire (or processing payment if the listing booked does not have a questionnaire), you will be taken into the customer purchase in the Purchases tab.