The Customers sub-tab under the CRM tab is where you'll go to update your customer contact information, view booking history, and add customer notes. Here you can also export a .csv spreadsheet of your customer information for use in other programs like MailChimp or Constant Contact. 
---
View Customer Information
Navigate to CRM > Customers and search for your customer by name or email. If you're in another tab you can always click on a customer's blue highlighted name to be taken into their record.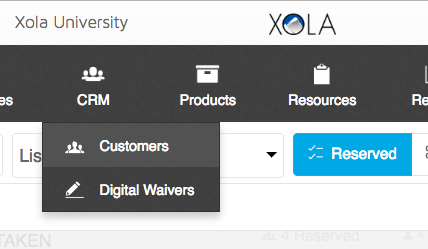 Edit Customer Info: Click the pencil icon to edit customer name, email, or phone number.
Lifetime Value: Click the blue + sign to view your customer lifetime value. See how much this customer has spent with your business, how many guests they have booked, and the number of coupons they have redeemed.
Bookings History: You'll find a row for each experience this customer has booked with you. Select either the event name or blue > to be taken to the purchase in the Purchases tab.
Customer Notes: Click the blue + sign and click into the Notes tab. These notes will remain in this tab and will also export in the .csv file. These are not customer-facing notes.
Tip: You can rebook this customer from their customer profile by selecting the Book Button (more on rebooking customers here).