Read on below to find out how to process tax-exempt customers in a snap.
Please note: Taxes and fees cannot be removed once a booking has been processed.
---
Remove Taxes & Fees 
During back office checkout, navigate to the Payment Summary.
Click the "Modify taxes & fees" link. A red X will appear next to all taxes or fees.
To remove a tax or fee before processing this booking, click the red X. A gray line will strike out  the tax or fee line item and it will be removed from the booking total.
Oops! To

re-instate one

tax or fee, simply click the gray arrow on the line item to reverse the removal. To

re-instate all

taxes or fees, click "Reset taxes & fees".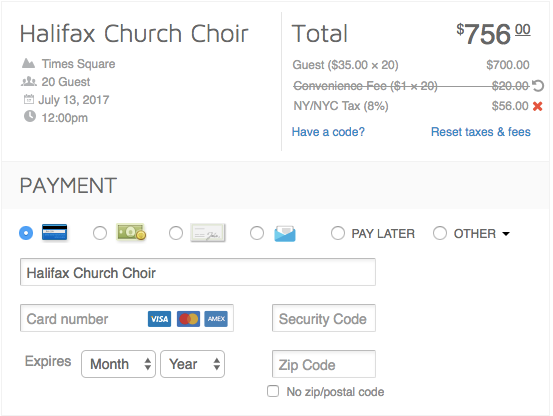 Proceed with booking as normal and click Pay.
In the customer purchase in the Purchases tab, hover over the Taxes & Fees line item to view a breakdown of paid and / or removed taxes and fees.