Does weather cast a big cloud on your business? Whether it's a big storm or someone simply can't make it, Xola now allows you raincheck your customers in the form of store credit. Gone are the days of cancelling and refunding, and your customers will be contented with an official credit towards your fantastic experience when the sun comes back outout.
---
Issue Store Credit
Navigate to the customer purchase in the Purchases tab.
If you are issuing store credit for an entire booking, click Cancel below the Payment Summary and confirm. If you are issuing store credit for a partial booking, click Refund in the Modifications Banner.
Select the store icon and click Return Payment.
You'll see the Timeline, Purchases tab, Customers tab, and Gifts/Store Credit tab update to reflect this credit.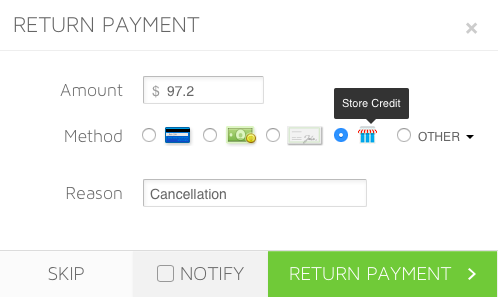 Customer Experience
As soon as you issue the credit to your customer, they'll receive an email very similar to a Gift Certificate email. Instructions on how to use the store credit are included, and the customer will be taken right back to your website upon clicking the Book Now button.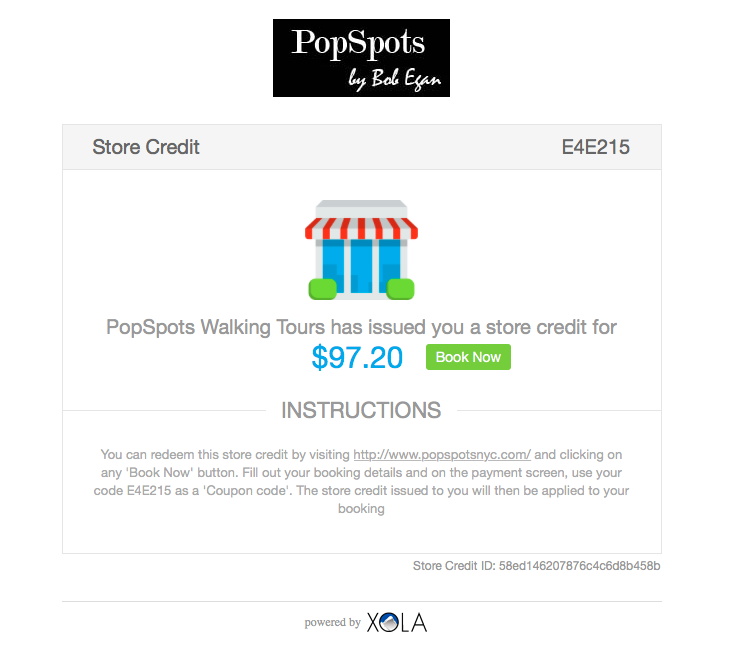 Customer Record 
The Purchases, Customers, and Gifts/Store Credit tabs will all update to reflect this store credit.
In Gifts/Store Credit, you can click into the customer Store Credit to Adjust Funds, Refund, or Adjust Balance, just like with a Gift Certificate.